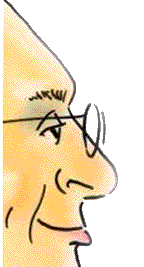 If you're into Mentalism or Magic, then you've heard of Bruce Bernstein. His products have gained great acclaim from around the world, and his routines are used by many of today's top working pros. Among his critically acclaimed creations are PSI-TECH, PSI-KICKS, CLASSICS, PERCEPTION IS EVERYTHING, PSYCH-OUT, THE BERNSTEIN CENTER TEAR, COUPLES, THREE, LINKING PINS, and PSI-DECK, of which Max Maven said, "If Machiavelli had wanted to do Card Mentalism, he might of come up with something like Bruce Bernstein's PSI-DECK."
He "paid his dues" as demonstrator at Frances and Jay Marshall's famous Magic Inc. in Chicago for almost 17 years. Bruce either lectured and/or performed at all of TONY ANDRUZZI'S legendary "INVOCATIONALS", and received the Psychic Entertainer's Association's "BLACKWOOD AWARD" for OUTSTANDING CONTRIBUTIONS to the ART of MENTALISM as well as the "LEDERMAN AWARD" for OUTSTANDING CREATIVITY. His lectures on Magic and Mentalism have been critically acclaimed throughout the country, and Bruce has lectured at the famed "Magic Castle", as well as being a featured performer/lecturer at the "05 Abbott's Close Up Convention", the "Magic In the Rockies", and, of course, the "Mindvention." In addition to his onstage appearances, he serves as a consultant and has developed material for some of the biggest names in the field.
Here are a few quotes:
Jeff McBride:

"Your lectures are fabulous!"
Jon Stetson:

Bruce Bernstein is a genius. He didn't pay me to say this. In fact, I paid him.
After having had the opportunity to see Bruce lecture and reading his wonderful books, I hired Bruce as a consultant. We have worked on several projects, and will continue to work together as long as I have a say in the matter!
Anyone involved with any form of mystery entertainment, MUST spend an evening at a Bruce Bernstein lecture. Bruce is one clever fellow, a tremendous teacher, and one heck of a great guy.
No matter what type of magic/mentalism that may be your particular field of interest there is much to be learned, and thoroughly enjoyed. First of all Bruce will fool you, and you will like it! In a world filled with magical pipedreams, Bruce's presentations are choc-full of sound, practical, doable, and dare I say commercial ideas. These time proven effects are taught with care and sound advice. Bruce has a fascinating background in Mystery entertainment. He has rubbed shoulders with the greats in the industry. Having spent years working with Jay Marshall at Magic inc., hundreds of professional performances under his belt, and years of study, writing, teaching and consulting. When Bruce speaks, "the boys" are all ears.
Oh, and by the way, if you are in the position to book a Bruce Bernstein lecture, he will make you look like a genius!
Bob Sheets :

"I am a fan, and after you have seen Bruce Bernstein, you will be one too!"
Eugene Burger: "Bruce Bernstein's lectures are super. I've attended many of them. He always has clever, practical ideas for close up and even palour and stage effects that will amaze our audiences. I perform two Bernstein effects in my own repertoire and I never fail to astound people with them. Don't pass up and opportunity to hear Bruce Bernstein lecture."
Max Maven: "Bruce starts with offbeat ideas, and then takes them further than you'd expect, with great results."
Stephen Minch: "Bruce Bernstein has devised some of the most diabolical conceits in modern Mentalism. When he talks I listen -- really carefully."
Luke Jermay: "Bruce is without a doubt one of mentalism's greatest thinkers. He subtle attention to detail takes what in others hands could have been mere tricks and turns them into fully formed miracles. I only meet Bruce recently and yet I felt as if I had known him for years. I think this may be down to the fact that Bruce also excels at a skill many mentalists do not. In Bruce's writings you find passion and soul. After reading his work I felt I "knew" him. His attention to detail does not go amiss in his writing either. You can be sure when you buy a book with Bernstein on the cover you are getting the complete and real work on the effects within. With effects such as Perception is Everything, which I think is probably the first application of its method in mentalism at such a high level and has spurred on many including myself to create effects using its conceptual teaching and The Ritual, which is probably as close to "mind control" as any one could wish to get, his Emergency Mentalism shows his ability to create material for the real worker and has personally saved me on more than one occasion.
I could cite material from Bruce's prolific output and explain exactly why I love them so much - but would rather you begin your own journey into this amazing mentalist's mind and begin to ask yourself why you love this material as much as me. And I have not even started on his brilliant Centre Tear yet!
I feel honoured to be asked to comment on material this good. I can only hope that I one day create something as brilliant as Bruce's material. Do yourself a favor and hand him a check for everything he puts out and do not miss out on anything he writes. You will be sorry if you do."
John Luka: "Bruce lectured for our group at The Magic Shop in Garden City, Michigan last night. The lecture was / he was MAGNIFICENT!
This definitely ranks with the top lectures I have seen in the past few years. Bruce obviously enjoys lecturing. It certainly showed. NO ONE left the lecture dissatisfied.
If you have the opportunity to attend Bruce's lecture, be sure you do. Or better yet, contact Bruce and arrange to have him lecture for your group. You'll be glad you did."
Bruce Barnett (Moderator of the E.G.): "There are 2 traits that I look for: impact and entertainment. I look for material that allows me to have fun with the audience. Last night I saw Bruce Bernstein's lecture. Every routine I saw him perform has been added to my list. The nice thing about his routines is the versatility. Take 'Psych-Out'. This can be used by gamblers, mentalists, card experts, or bizzarrists. I'm going to have fun with this routine. I liked Bruce's 'Linking Pins' routine. Even when I knew the principle he fooled me with it. 'Couples' is baffling to magicians and non magicians. This is a trait that most of Bruce's routines have. Devious might be the better word. He fooled me many times."
"Every routine is well constructed, strong, baffling, and suitable to a wide variety of venues. Highly Recommended."
Marc DeSouza: I just wanted to thank you for the incredible lecture you gave at my home. Truly something for everyone. Your theories on mentalism were "thought provoking" to say the least. The Center Tear is one of the best, most practical handlings I have seen. I was only sorry that you taught Psych-Out; it's too good and I wanted to keep it for myself. It is certainly a routine to be added to my working repertoire.
Lee Earle: "There are very few lecturers who pack as much value into a lecture as does Bruce Bernstein. This is a performer who knows what he is talking about and is one of those rare individuals who thinks. Anyone who attends his lecture and doesn't come away with a headfull of clever, practical. no nonsense material just wasn't paying attention. If you're booked to perform on the night Bruce is scheduled to lecture, give the gig to your competition. You won't regret it."
Gary Kurtz: "Bruce Bernstein, through his books on Mentalism, has long been an inspiration to me. His lecture is filled with strong, usable effects accomplished by devious 'working man' methods. Definitely see his lecture if you have a chance."
Bruce has two different lectures, and also offers an in-depth Mentalism workshop, done in the traditional "Teach-In style" for a limited number of attendees.
Lee Marelli (President of the "Psi-Clones" and for the "Mile High Magician's Society): " The attendees commented most favorably on your lecture and would certainly recommend it to anyone who wants to host your lecture."


"As to the Mentalism Workshop, the Psi-Clone members who attended immensely benefited from it. The Workshop was truly a working session for those who are serious about Mentalism. In summary, both your Lecture and Workshop is a tribute to your professionalism, creativity, and ability to teach. There is no doubt you are a star in the world of Mentalism."